SPIRALING IN, SPIRALING OUT
A YEAR LONG COMMITTED STUDY GROUP
with Geordie Jahner, PhD
UPACKING THE BONES & SPIRIT OF
OPEN FLOOR MOVEMENT PRACTICE 
In person
 @ Mana Retreat Centre, Coromandel, NZ
Applications Open >>
A SOULFUL DEEP DIVE INTO THE EXPERIENCE, UNDERSTANDING & APPLICATION OF OPEN FLOOR CURRICULUM
Engage in a yearlong process of deep learning!
Join a powerful transformative container:
3 immersive 5-day retreats@ beautiful Mana Retreat Centre
• Module 1: 23–28 February 2024
• Module 2: 20-25 September 2024
• Module 3: 14-19 February 2025
+3 Integrative Sessions(live online betw modules) (90 mins)
An educational skill building programopen to anyone interested in deepening their experience and understanding of the underlying principles, distillations and philosophy of Open Floor curriculum, for personal or professional application. This program will combine both experiential and reflective learning.
Spiraling in:Soulful immersions into core aspects of Open Floor Movement Practice. Honing our conscious dance practice. Resourcing ourselves.
Spiraling out:Reflections on movement experiences, theory and skill building. Taking it off the dance floor, out into our personal and professional lives.
Are you called to join?
Limited spaces available
COSTS
TUITION:
$675 NZD per module (incl 5 day retreat + online session betw modules)
Open Floor teachers: 20% discount on tuition fees
2 x $500 scholarships available upon application
Early Bird Option $…. apply and book before 31st December
MANA ROOM & BOARD
$158 NZD/day includes shared accommodation + 3 delicious vegetarian meals
Private accommodation available @ higher price
Commuter & camping options available @ lower price
APPLY NOW to secure your spot!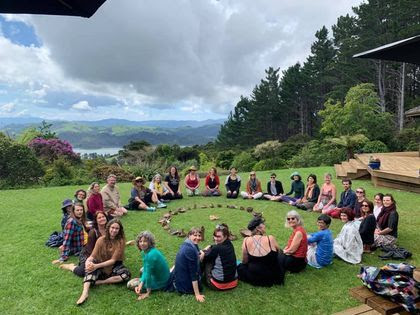 Learn more about the process…
During our recent Body Wisdom program I was reminded of the incredible depth, power, authenticity, intimacy, sense of kinship, connection, magic and wisdom that can be generated within the container of a committed ongoing group. In this age of so much time spent online, I am dedicated to embodied in-person experiential learning, on this land.
For the past 10 years, I have been intimately involved in the collaborative distillation, articulation and teaching of Open Floor Movement Practice curriculum and syllabus along with colleagues and other founding members of Open Floor International. In this professional development program my intention is to give it my all and pass on an embodied soulful understanding of Open Floor curriculum in a way that brings resource, reverence and renewal to LIFE.
Open to anyone wishing to integrate embodiment practice more fully into their personal or professional lives. May be of particular interest to teachers & students of conscious movement practices, meditation, yoga, therapists, coaches, healers, managers, and you.
Participants will emerge with
– a clear overview of Open Floor Movement Practice
– skills and pathways for application
– deepened interior capacities
– resources and tools
Participants need to be willing and prepared to switch between personal movement experience, reflective & theoretical learning & practical skill building. Participants must commit to attending all 3 modules. Please check your schedule to make sure you are available for all dates before applying.
Pre-requisites: Minimum 30 hrs conscious dance experience (any form) including 15 hrs of Open Floor experience (e.g. Ground Floor Lab, any groups, workshops, classes w/Open Floor teachers).
Geordie Jahner PhD
Open Floor Faculty, Teacher & Mentor
Geordie Jahner phD
After 30 years of teaching dance as a healing art, Geordie is passionate about exploring ways in which our dance and embodiment practices can help us live more resilient, connected and mindful lives. She is curious to explore how we can use our dance practice to attune more deeply and know ourselves as inseparable from self, other & nature – as we learn how to care more mindfully for our bodies, each other and our beautiful habitat – planet earth.